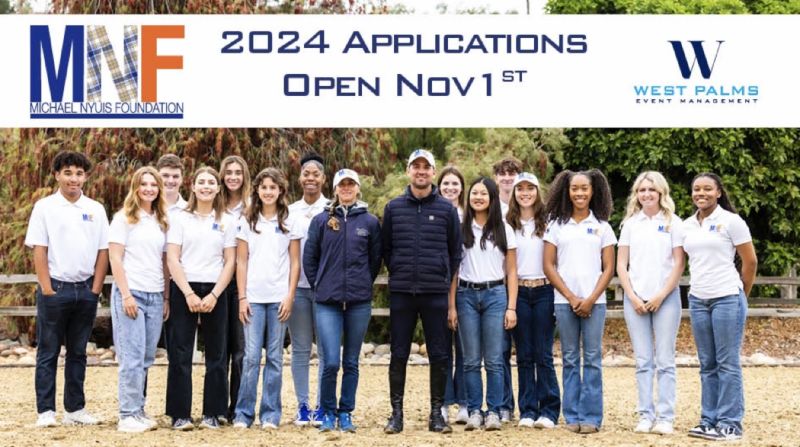 The Michael Nyuis Foundation (MNF) is pleased to announce that 2024 MNF Grant Applications will open on Wednesday, November 1. The Michael Nyuis Foundation is a 501(c) non-profit organization that offers support for young riders who have the passion and drive to compete but lack the financial resources to do so consistently throughout the year.
The Foundation's Grant Program, originally established in 2015 by West Palms Events, provides young riders with financial support to lessen the burden of entry and show fees.
MNF Grant recipients not only get experience in the show ring but also get to work behind the scenes at West Palms shows and learn about horse show management. In addition, recipients have the opportunity to participate in clinics and workshops with leading industry experts and world-class riders, including McLain Ward, Jessica Springsteen, Cassio Rivetti, Karl Cook, Mandy Porter, Tiffany Foster, Mavis Spencer, and more.
Applicants will have until Saturday, November 25 to submit their applications and results will be announced by the first week of January. The Grant is open to young riders aged 14-25 who will be asked to submit a brief summary of their equestrian experience as well as one letter of recommendation from a professional in the industry. The application also asks for two videos: one explaining why they should receive the Grant and one showcasing their riding skills.
Last year, the Foundation received a record number of applications (110) and awarded a total of 17 Grants to a very deserving group of young riders. "I am so grateful that I received the MNF Grant in both 2022 and 2023," said Tobi Benedict, 20 years old. "Getting the Grant really helped me because I wouldn't have been able to show at all without it. I was working as a groom and once I got the Grant I was able to get in the show ring and advance my riding."
"I feel like I'm living my dream and working toward a professional career in the sport— none of this would have been possible without the MNF Grant," Tobi added.
West Palms CEO Dale Harvey understands what it's like to be a passionate young equestrian with limited resources. "Where I grew up in the northern part of Canada, there weren't many opportunities available to me," said Harvey. "I could not have done it without all the people who were willing to help me. It's truly an honor to be able to pay it forward and help these hardworking young riders achieve their goals."
To learn more about the Michael Nyuis Foundation Grant Program, visit westpalmsevents.com/michael-nyuis-foundation.
Best of luck to our 2024 Applicants!
Make sure to follow MNF on Instagram, Facebook, and TikTok @MichaelNyuisFoundation.
Thank You to our Generous Donors and Partners
Christi Edelbrock
S&S Bankcard Systems
The Skelton Family
Compton Junior Equestrians
Compton Cowboys
West Palms Events
Sacramento International Horse Show
Murieta Equestrian Center
HITS Del Mar