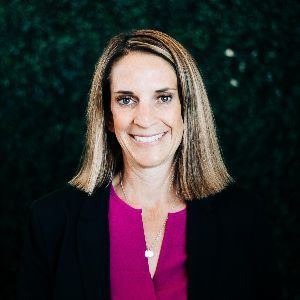 Adrienne has been in love with horses her whole life, started riding when she was eight, and never looked back. She has combined her love of all things equestrian with her formidable organizational, marketing and "people" skills to carve out an important niche in the West Coast's equestrian show community. Working for West Palms Event Management since 2007, Adrienne was an integral part of the team that founded the Sacramento International Horse Show, recognized as a top 25 show in the U.S. by NARG for eight years in a row. In 2013, she was awarded the USHJA Vital Staff Support Award in recognition of her exemplary and instrumental work in the success of the sport's competitions throughout the year. In her spare time, she enjoys riding her horse, working out at the gym, traveling, playing with her dogs and spending time with her husband, Nick, and two young son's, Greyson and Declan.
Caroline Jones has lived and worked in Calgary, AB and was management consultant and later Tournament Manager at Rocky Mountain Show Jumping for 20 years. She first got involved with horses after her mother signed her up for lessons at age 12, and the rest is history.
Her dream venue to attend is the Olympia London Horse Show at Christmas time. When she's not busy with horses and tournament planning, her favourite vacation destination is Maui, HI and her favourite movie is The Shawshank Redemption.
Caroline will be working with the West Palms team in every aspect of our event schedule and will act as a consultant to raise the bar that she has become known for.
Charlene first met Dale in 1995 when he trained her son, Guy David! Charlene has ridden from a young age, continuing her career at Centenary College in Hackettstown, NJ riding for their Equestrian Team. She is now an active member of the Blue Ridge Hunt Club in Virginia! She worked and held an office with the Orange County IEL for several years and coached the award winning SMCHS Equestrian Team for 10 years. She has been working with West Palms for several years now and can always be found with a smile on her face!
Call Charlene
(949)275-1325
Alexandra, is our German national on the team, having fallen in love with the horses when she was 9 years old. After a couple of successful year with her gelding Desperado up to 1.35m jumping classes in Germany, she decided to focus on her studies in International Sport and Event Management to focus more on the organizers site of the horse shows. After her master and MBA degree she started to work for Longines timing and traveled to horse shows around the globe and was based in Chicago to be part of the beginning of the North American League for Longines timing. Her passion is not just the horse sport itself, it is all about sport marketing and organization. If she is not at a horse show she is working for different sponsors at international sporting events like the Americas Cup 2017 or the World Ski Championships in St. Moritz.
Andrea is proud to combine her professional career with her passion for horses. After growing up in the San Fernando Valley and graduating from Cal State Northridge with a degree in Liberal Arts, she quickly realized the ability to manage finances was a necessary part of owning a horse. She chose accounting as her career path and spent over 20 years providing skilled services for various clients.
Andrea developed a specialty in equestrian accounting through her professional growth and continued passion for the hunter/jumper sport
Andrea is the proud owner of two horses, Decker and Koa. Over the years, she has dabbled in the show ring and earned top ribbons. Her favorite aspect of horse ownership is simply riding her horse around Los Angeles Equestrian Center and spending time at the barn.
Andrea will be working closely with the West Palms Team, and you will see her in the show office at most of the West Palms Events competitions!
Kady Risby is the founder and co-owner of Kaden Ave Communications, a boutique social media management agency with an equestrian specialization based in Edmonton, Alberta. Kady has ridden competitively for more than 20 years and enjoys creating unique, thumb-stopping equestrian social media content that's on trend and showcases the best of each venue, horse, and rider. You can usually find her ringside with her trusty camera at horse shows across western North America.
Drop Us a Line
Don't be shy.
Sign Up for Our Newsletter
Keep up to date.