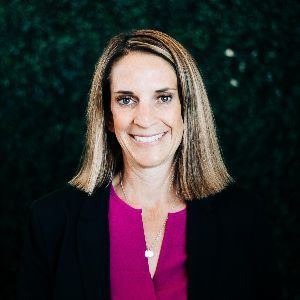 Adrienne has been in love with horses her whole life, started riding when she was eight, and never looked back. She has combined her love of all things equestrian with her formidable organizational, marketing and "people" skills to carve out an important niche in the West Coast's equestrian show community. Working for West Palms Event Management since 2007, Adrienne was an integral part of the team that founded the Sacramento International Horse Show, recognized as a top 25 show in the U.S. by NARG for eight years in a row. In 2013, she was awarded the USHJA Vital Staff Support Award in recognition of her exemplary and instrumental work in the success of the sport's competitions throughout the year. In her spare time, she enjoys riding her horse, working out at the gym, traveling, playing with her dogs and spending time with her husband, Nick, and two young son's, Greyson and Declan.
Sara started riding when she was 10 years old and fell in love with the sport. She grew up in Hawaii and spent all of her free time at the barn. In Hawaii Sara not only competed Hunter/Jumpers but also rode a little western, dressage and even rodeo grand entry. After high school Sara moved to the Northwest to go to college. While in college she started working for a local bank and worked her way up from Teller to Branch Manager. After 15 years of banking she decided it was time to pursue her passion and started working as an Assistant Trainer. In the fall of 2015 Sara changed her focus from training to working in show management for West Palms Events. Sara has a young daughter who also has a strong love for horses and loves to compete at the shows.
Charlene first met Dale in 1995 when he trained her son, Guy David! Charlene has ridden from a young age, continuing her career at Centenary College in Hackettstown, NJ riding for their Equestrian Team. She is now an active member of the Blue Ridge Hunt Club in Virginia! She worked and held an office with the Orange County IEL for several years and coached the award winning SMCHS Equestrian Team for 10 years. She has been working with West Palms for several years now and can always be found with a smile on her face!
Call Charlene
(949)275-1325
Alexandra, is our German national on the team, having fallen in love with the horses when she was 9 years old. After a couple of successful year with her gelding Desperado up to 1.35m jumping classes in Germany, she decided to focus on her studies in International Sport and Event Management to focus more on the organizers site of the horse shows. After her master and MBA degree she started to work for Longines timing and traveled to horse shows around the globe and was based in Chicago to be part of the beginning of the North American League for Longines timing. Her passion is not just the horse sport itself, it is all about sport marketing and organization. If she is not at a horse show she is working for different sponsors at international sporting events like the Americas Cup 2017 or the World Ski Championships in St. Moritz.
Brooke grew up riding and competing on the local hunter/jumper circuit in Southern California. While she was in high school and college, she interned for an equine media company, writing press releases and conducting interviews with equestrian athletes. She realized that she wanted to pursue a career in equestrian media and decided to get her Master's Degree in Journalism at USC. Brooke specializes in social media and marketing, and she is also a freelance writer for California Riding Magazine and The Plaid Horse. When she's not riding or writing, Brooke enjoys working out, watching sports, and traveling.
Hospitality & Sponsorship
Jaime began riding horses at a very young age and has been passionate about all things equestrian her whole life. She had a very competitive junior career and took a 18 year hiatus, recently returning to the horse show world as an amateur rider. She enjoys competing with her horse, Conux, in the equitation & hunter rings. Jaime has built her professional success on integrity, innovative ideas, hard work and great communication with her clients. She has owned and operated an event production and design agency for over 20 years, INK Events & Design, creating world-class extraordinary experiences. Working with top- tier clients, Jaime epitomizes concierge level service in each and every detail and this contagious energy launched Jaime on her event production journey.
Samantha has figured out to involve her passion for horses with her career. Starting her career with launching new beverage brands to market throughout the Western US. Then moving on to introducing equestrian brands to the show market throughout North America. Now that I'm older I like to collect ponies.
Call Samantha
949-929-9700
Drop Us a Line
Don't be shy.
Sign Up for Our Newsletter
Keep up to date.