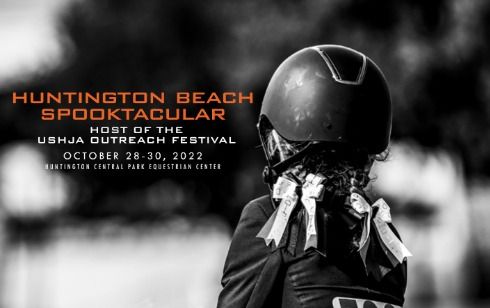 HUNTINGTON BEACH, Calif. — Halloween is just around the corner and so is the Huntington Beach Spooktacular! We're returning for a spooky great time to the Huntington Central Park Equestrian Center from October 28-30. Entries close tomorrow, October 10th for this ghoulishly great event with classes for all ages and experience levels. Don't delay or you'll be haunted by the ghost of horse shows missed! 
Feature classes include the Witching Hour Take-Your-Own-Line Equitation, Trick or Treat Hunter Derby 3′, Jack-O'-Lantern Hunter Derby 2′, Headless Horseman Hunter Derby 2'6, Ghostbuster Mini Prix 1.20m, and costume competitions, including the inaugural US Hunter Jumper Association Outreach Festival. We have also added a Junior/Amateur Owner 3'3 Hunter division.
"The Outreach Festival is the culminating event of the Outreach Series," says Melanie Mader, USHJA sport program coordinator. "The series brings a top level championship experience to the local level with amazing awards and prizes and exhibitor perks. 
Competitors who participated in one of the Outreach Series shows are qualified for the Outreach Festival.
Entries close on ShowGroundsLive.com tomorrow, October 10, at 11:59 p.m. PT.
Come dressed for the occasion in your best spooky costumes and be ready for a lot of treats…and maybe a few fun tricks.
EHV Protocols
We have some important information to share with you regarding our EHV protocols to promote safety for all horses. Please note that there are inherent risks when traveling and competing with horses. It is critical to mitigate these risks by following Best Practices.
Our Equine Health Coordinator is available to answer any questions related to our horse health policies at equinehealth@westpalmsevents.com. Our policies are available on our website, www.westpalmsevents.com, under the "Biosecurity and Horse Health" button. You can also click the buttons below to download and print forms. 
You will be required to send in a horse health declaration form and proof of vaccination 48 HOURS PRIOR TO ARRIVAL. In addition, you will be required to present a 7-day temperature log AT THE CHECK-IN GATE before horses can enter the showgrounds. Once horses arrive on-site, you must record temperatures twice daily and post them visibly on each stall.
An Important Reminder from the USEF
USEF thanks you for participating in this competition and your support of USEF's continuous efforts to provide the safest environment possible for our athletes and other participants. Strategies for safeguarding athletes continue to evolve, and we are fully committed to keeping pace with best practices.
The purpose of this letter is to remind you that you are bound by the U.S. Center for SafeSport Code, USEF Safe Sport Policy, and Minor Athlete Abuse Prevention Policies, also known as the MAAPP. This includes the SafeSport Training requirement for adult members and participants who have regular contact with minor athletes. Additionally, please be reminded about reporting obligations. Any concerns that are non-sexual in nature, please use the USEF Safe Sport Incident Reporting Form available on the USEF website. Concerns or suspicions regarding sexual misconduct must be reported to https://safesport.i-sight.com/portal and the authorities if a minor is involved. All of this information can be found in the USEF Safe Sport Policy.
Please take a moment to review the new USEF Safe Sport web pages on the USEF website to find comprehensive resources regarding USEF Safe Sport efforts. You can also contact Sarah Gilbert, USEF Safe Sport Program Coordinator, at [email protected] for any questions or concerns relating to the USEF Safe Sport program.
Thank you for your support and for helping us bring the joy of horse sports to as many people as possible!