Conor Swail goes back-to-back in Sac in the $228,000 Longines FEI Jumping World Cup™️ Sacramento presented by 23 Wines at Murieta Equestrian Center
Conor Swail, Sophia Siegel, and Natalie Dean Take Top Honors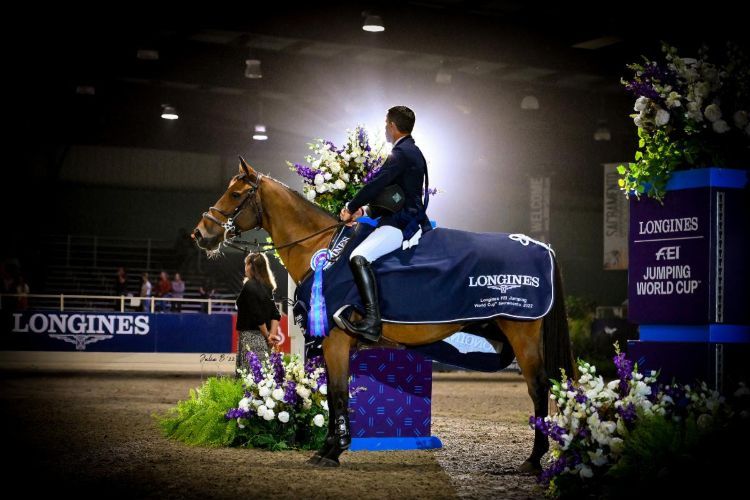 SACRAMENTO, Calif. – The $228,000 Longines FEI Jumping World Cup™️ Sacramento presented by 23 Wines at Sacramento International World Cup Week (Oct 5-9) welcomed some of the world's best show jumping athletes to the GGT Footing Arena at Murieta Equestrian Center.
At the end of the night, it was Conor Swail and Vital Chance De La Roque who had the #TimetoBeat, stopping the clock at 38.19 seconds with a clear round in the jump-off, nearly 12 seconds faster than second place and and securing the first victory of the FEI World Cup North American League™️.
Conor Swail and Vital Chance De La Roque
Natalie Dean and Chance Ste Hermelle
West Palms CEO Dale Harvey with Rudy Leone, and Murieta Equestrian Center owner Carol Anderson Ward, joint original founders of the Sacramento International Horse Show
The 15th annual Sacramento International Horse Show was one of the most successful yet and original founders Dale Harvey, Rudy Leone, and Carol Anderson Ward were honored in the Grand Prix Ring with a champagne toast to 15 great years. Much has changed over time, but the commitment to horses, great sport, and putting on a beautiful event remains the same.
We are appreciative of the continued partnership with Murieta Equestrian Center to put on the Sacramento International Horse Show.
Dale Harvey with presenting sponsor, Greg Vaughn and Genay Vaughn of 23 Wines 
Our National Anthem singer, LaToya Walton
Thank you to our incredible ring crew for all their hard work
West Palms CEO Dale Harvey and Carol Wright receiving her Lifetime Achievement Award