Entries are Open for the Hollywood Classic, Huntington Beach Sunshine Classic, and Huntington Beach Summer Classic
Join us at Hansen Dam Horse Park and Huntington Central Park Equestrian Center for Summer Competition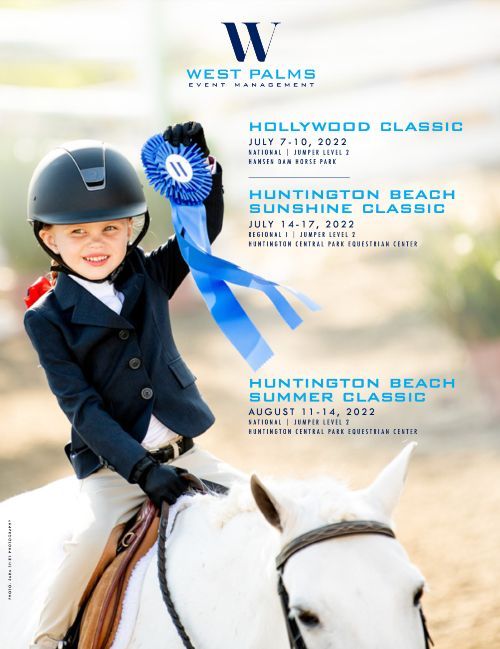 West Palms Events is gearing up for a fun-filled summer with competitions for riders of all levels. The prize list is now available for the Hollywood Classic (July 7-10) at Hansen Dam Horse Park as well as the Huntington Beach Sunshine Classic (July 14-17) and Huntington Beach Summer Classic (Aug. 11-14) at Huntington Central Park Equestrian Center.
The Huntington Beach shows will include fundraisers and classes benefitting the 
Free Rein Foundation
, whose mission is to heal humans and rescue horses by creating a bond that empowers and nurtures both.
"Our organization would not exist without the relationship we have been able to forge with West Palms," said Free Rein President Justine Makoff. "We are so grateful to Dale, Adrienne, and the entire team because they support us in such a huge way. The fundraisers we do at these shows bring in the most amount of funding for our organization and make our mission possible."
Hollywood Classic
Hollywood Grand Prix 1.30m

GGT Footing 1.20m

USHJA National Hunter Derby

Hollywood Star Equitation
Huntington Beach Sunshine Classic
Sunshine Grand Prix 1.30m

GGT Footing 1.20m

USHJA National Hunter Derby

Free Rein Equitation Class
Huntington Beach Summer Classic
Free Rein Grand Prix 1.30m

GGT Footing 1.20m

USHJA National Hunter Derby

Free Rein Equitation Class
The prize list and entry forms are available 
here
. Entries can be submitted online through 
ShowGroundsLive
. 
Stalls are limited and expected to sell out. Please confirm your stall counts as soon as possible to reserve your place. Entries for the Hollywood Classic and Huntington Beach Sunshine Classic are due by June 20. Entries for the Huntington Beach Summer Classic are due by July 15.
See you in the show ring this summer! ☀️ Click 
here
 to view the entire 2022 West Palms Events Competition Schedule.
EHV Protocols
We have some important information to share with you regarding our EHV protocols to promote safety for all horses. Please note that there are inherent risks when traveling and competing with horses. It is critical to mitigate these risks by following Best Practices.
Our Equine Health Coordinator is available to answer any questions related to our horse health policies at [email protected]. Our policies are available on our website, www.westpalmsevents.com, under the "Biosecurity and Horse Health" button. You can also click the buttons below to download and print forms.
You will be required to send in a horse health declaration form and proof of vaccination 48 HOURS PRIOR TO ARRIVAL. In addition, you will be required to present a 7-day temperature log AT THE CHECK-IN GATE before horses can enter the showgrounds. Once horses arrive on-site, you must record temperatures twice daily and post them visibly on each stall.